You're Not Perfect / Jesus Thinks To Die For! License Plate Frame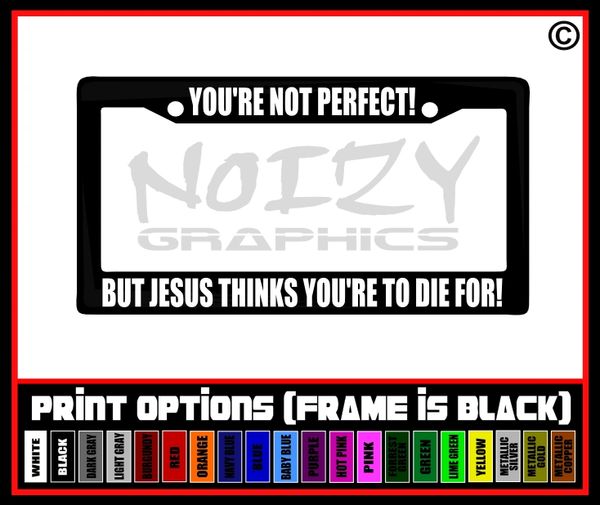 You're Not Perfect / Jesus Thinks To Die For! License Plate Frame
FIRST CLASS SHIPPING RATES APPLY FOR UP TO 2 FRAMES!
Up for purchase is the black license plate frame pictured. We only carry frames in the color black and the color option is for the print only! They are plastic frames designed to fit standard 6" x 12" north American license plates. They are fairly universal for any car front or back as they use the same bolts as your original license plate do to be held on with. We use industrial vinyl for the print which lasts up to 6 years. Do keep in mind with the frames being black the lighter colors contrast best! Please choose a color from the draw down menu upon proceeding. Add one of these to your car or truck and "Let your voice be seen!"
*These are the most common frame design. The measurements are 12.375" width x 6.375" height overall, Top and bottom sections are 1.1875" height and sides are 0.625" width. Keep in mind the frame design pictured and these measurement to ensure your states requirements and registration tags are displayed.
*Frames come in bulk from a large distributor which keeps the price low, minor imperfections may appear up close, but will not be noticeable on your vehicle. These are great and we sold 1000's of them on ebay maintaining awesome feedback. We just want to make mention to be honest as possible! Anything bad is scraped! When received people examine it from 12" away out of the packaging. When on your car nobody is that close! Agreed?!
Thanks for viewing!